Pattaya is a one of the most visited beach destination in South East Asia. This is easily accessible destination and come within anyone's budget. This place offers many attractive places for the tourists. 
Reaching Pattaya : 
Pattaya is well connected destination. Tourists find no hassle to reach there. Nearest airport is in Bangkok. There are two airports in Bangkok. One is Suvarnabhumi International Airport ( Code :BKK) and other one is Don Muoung International airport (DMK). Pattaya can be reached with connecting buses and taxis. Buses can be boarded from Airport or Ekamai Bus Terminal. 
Stay : 
Pattaya offers a lot of options to stay. These are in all budget. Best place to stay is either in Pattaya Beach Road or Pattaya 2nd Road. Many tourist also prefer to stay in Jomtian Beach but that's bit away from the happening place
Food :
Pattaya offers a lot of place to eat. Restaurants offer almost all types of cuisine. Drinks are quite reasonable here.
Attractions :
Pattaya offers an array of tourist attractions for visitors. I am noting few of them with a brief description.

1. Coral Island 
Coral Island trip is one of the most visited place in Pattaya. This can be reached by speedboats. At times boats stops at para- sailing deck. Please note these activities are optional.Apart from that you cab also opt for activities like scuba- diving, jetski etc. These are operated by locals and you must crack a good deal with them before taking the activities. It is preferred by youngsters. People with medical ailments must consult with their doctors before opting of any of the activities.

 2. Alcazar Show 
 This a popular evening show in Pattaya. The Alcazar theatre is situated near Pattaya 2nd Road. This is a cultural show where artists perform in a number of languages. You can prefer a good seat to see the show in comfortable position. It is good for people of all ages.

3. Nong Noch Village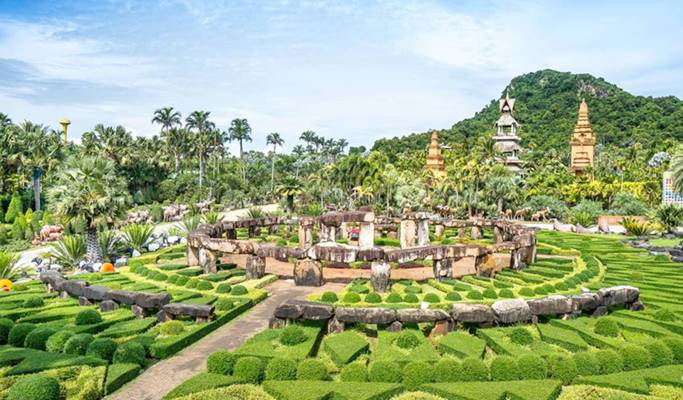 This is good place to visit. Here people can see a cultural show followed by elephant show. You can see elephants playing and painting. Apart from show you can see wonderful Botanical garden in this. It is beautiful and well maintained. It is good for people of all ages.

4. Sanctuary Of Truth
It is ancient wood crafted Temple located in Nakula area of Pattaya. This temple is dedicated to Hindu Gods & Goddesses. Now it is considered as Buddhist place. People who are interested in history, this is a must visit place. This is good for tourists of all ages.

5. Mini Siam 
This is wonderful place where you can see miniature versions of many wonders of world & of Thailand. This is good place for photography. People of all ages can visit this.
6. Art In Paradise
This is great place for 3D pictures & amazing photography. If clicked at right point and right way, you can make good picture. Direction of taking photo is mentioned near each picture. Tourists of all ages can visit this.

7. Ripleys Belive it or not :  
 This is situated on Beach Road. This houses many attractions inside this. There are shows where people of all ages can go. But there are attractions where people with health ailments are advised not to go. 
8. Underwater Pattaya

 This is situated near Nong Nooch, bit away from beach area. This is an indoor aquarium showcasing marine life of Thailand. This place is good to go for people of all ages. 
9. Teddy Bear Museum 
This is situated on Pattaya Beach Road. This place has a lot of teddy bears creatively posted in playful positions. This is preferred by children, however people of all ages can visit. 
10. Walking Street 
 This is place of adult entertainment and is the busiest part of Pattaya. This starts from evening and ends by morning. This is good for adults however visitor discretion is advised.
 Pattaya offers activity for people of all ages. This is one of most tourist friendly place.

Blog By : Abhishek Sengupta
admin
December 29, 2019
Travel Destinations
no responses