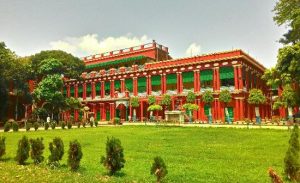 Jorasakho is a locality in Northern Kolkata in Indian State of West Bengal. It is said, this place got its name from two wooden bridges near by. There is another school of thought which says the name came from Twin Shiva temples. This place is more famous for distinguished seat of Tagore family.
It hosts the ancestral house of Tagore. More popularly known as Jorasakho Thakurbari – House Of Tagores in Jorasakho.  It is situated in road named Rabindra Sarani (In Kolkata). It is built on the land donated by Sett family of Burrabazar area of Kolkata. First construction was done by Nilmani Tagore  but the extension of this house was done by Dwarkanath Tagore who was grandfather of Rabindranath Tagore – Poet & First Nobel Laurate of Asia.
It is the birthplace of Rabindranath and it is the place where poet breathed his last in 1941. It is a glorious brick – red colour mantion with plush green lawn in its front. The back of the house has four side locked square shaped veranda, which is open to sky. It is said that Tagore family hosted many functions in this square veranda.
Today, it is under Rabindra Bharati University. The house is a museum now. Thakurbari consists of many rooms, some of the rooms worth mentioning are first room – where outsiders used to wait, dining room of family, sleeping rooms of different members of family. There are the rooms used for various purposes by the Tagore family. You can even find the room where the poet passed away. This house also has a Maternity room, where the family members were born. On the other wing of the house, you can find the meeting room of Tagore –  where he used to meet people and used to compose his poems. Most interesting thing is poet's Humbler Car, which one can find parked near the entrance.
Going through galleries of Thakurbari is the most interesting thing to do. While going through the galleries on can see poet's connect to the international world. Visit to The Forbidden City in China and his famous meeting with Albert Einstein are worth mentioning. His paintings are must see. However, you require an expertise to find the real theme poet wanted to portray in his paintings. It is widely visited by the people who have interest in culture, literature and history
Thakurbari also hosts light and sound show in winter. This show depicts interesting aspects of Tagore's life. This is liked by many people. People come from far areas to see the light and sound show. Many unknown facts of Poet's life comes to play on screen during the show.
Another interesting thing is, one need to remove his or her shoes before getting in to the Thakurbari.  This rule comes from a Bengali tradition. In Bengali culture, one need to remove his / her shoes before entering someone's house. This is a taken as a mark of respect for the person whose house is getting visited. Same tradition need to be followed when you are visiting House Of Tagore family – You need to remove your shoes before entering.
It is open six days a week. Monday is the day of closure. This place is well connected. Nearest metro station is Girish Park, from there one can take a 15 minutes walk. A lot of buses connect this place with the rest of the city. This place can even be well accessed by app cabs like Ola or Uber.
Blog By : Abhishek Sengupta
admin
March 31, 2020
Uncategorized
no responses