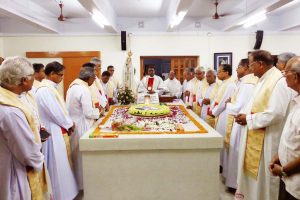 Mother's House is located at AJC Bose Road in Kolkata, in Indian state of West Bengal. This was the home of Nobel Laureate and Saint – Mother Teresa – from 1953. After her death in 1997, she was buried on the ground floor of this building. Since then, this place is a pilgrimage place. Mother's  Tomb is visited by thousands of people, on yearly basis.
Mother's house consists of Tomb, a museum and Mothers living room. The first room of the building contains Mother's tomb. Mother Teresa was buried at this place on 13th September 1997. This room is a zone of absolute silence. Many people come and pray here. It is said the uncountable numbers of prayers gets answered from this place. Many people got benefit of prayers offered here.
The second room is, the museum. It contains articles used by Mother during her lifetime. The utensils, clothes, pens, writing pad etc used by Mother, can be seen here. You can even find the medical kit use for her. You can even see The Bharat Ratna Award – which is the highest civilian award in India.  Interestingly, you can also find Nobel Prize awarded to her. In the museum, many newspaper articles are also well kept.
The third room is Mother's living room. This is situated on the mezzanine floor of the building. It is a small and simple room. It has one bed, one table, one chair and a ceiling fan. Notably this room does not have air condition. One more interesting thing to note is, this room is situated above kitchen. At times during summer, the room used get terribly hot but Mother never complained about that. Mother left for her heavenly Abode on 5th September 1997 from this room.
Mother's house is well connected by a network of buses to the rest part of the city. Traditional yellow taxis can be taken to reach this place as well. App Cabs like Ola and Uber too offers excellent connectivity.
Blog By : Abhishek Sengupta
admin
April 8, 2020
Uncategorized
no responses