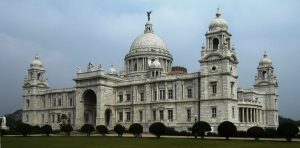 Victoria Memorial is one of the landmark buildings in Kolkata. It was made in the memory of Queen Victoria. After 1857 war of independence, India came under direct British rule. Prior to this was under rule of East India Company. Queen Victoria became the Empress of British India.
It is made up of white Makrana marble from the state of Rajasthan. The construction was Initiated  by Lord Curzon in the year 1901, after the death of Queen Victoria. He got a donation of Rs 10,500,000/- from princely states in India. It was designed by Sir William Emerson, the President of British Institute of Architects. The Prince of Wales King George V laid the foundation. The construction started in year 1906 and ended by year 1921.
It consists of sparkling green lawn and a white marble structure. The white marble structure has got museum in it. It includes various historical items like weapons, various items used by kings of late medieval era. Victoria Memorial also has a lot of fine oil paintings. These are quite old and recently restored under expert supervision. Museum has the various galleries out of which Kolkata gallery is worth mentioning. It is newly made and represents the picture of Kolkata. It has got two levels lower level has display articles and museum whereas upper level got a lot of large sized oil paintings. One interesting thing about Victoria Memorial is, there is an Angel which is mounted on the top of the structure. It rotates. There was a technical issue, few years back, which led to stoppage of the rotation. It was repaired by finest engineers and the angel is now rotating once again. But this is quite slow. You might not discover it in the first place. You need to you observe it or see it after a period of time, in order to discover the rotation. Is it not interesting ?
There are some of the lesser known facts about Victoria Memorial. One such fact is before the construction of the Victoria Memorial marble structure, it was the place for Presidency jail. Before the start of construction the jail was relocated to Alipur area of Kolkata. One more lesser known fact is that it was painted black in the year 1943, during Second World War. It was done to save this from  Japanese Bomber planes.
This attracts tourists from all over the world. This is open 6 days a week except Monday. Lawn can be accessed by all, whereas a special ticket is required for entering the museum. During winters, Victoria Memorial lawn plays light and sound show in English and Bengali. This show displays the evolution of Kolkata. This place is well accessible. One can get in here by metro, nearest station is Rabindra Sadan. There are many buses which ply in this route. App cabs like Ola & Uber are easily available for reaching here.
So next time you are here. Do not forget to see the wonderful structure.
Blog By : Abhishek Sengupta
admin
March 30, 2020
Uncategorized
no responses