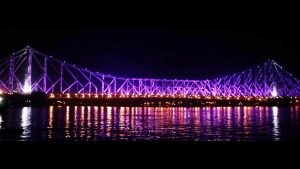 Howrah Bridge Howrah bridge is a cantilever bridge which connects twin cities of Howrah and Kolkata. It was commissioned in the year 1943. It was previously named as new Howrah Bridge. It replaced Pontoon bridge. On 14th June 1965, it was renamed as Rabindra Setu after Nobel Laureate Ravindranath Tagore.
In the year 1906 Port Commission appointed a committee headed by R S Highet, Chief engineer of East India Railways for study. It was proposed to make a floating Bridge. A tender was extended and awarded to a company. However the construction work got stalled due to start of World War I.  In 1921 Mukherjee committee headed by R N Mukherjee referred the matter to Sir Basil Mott who proposed an arch bridge in 1922. New Howrah Bridge Commission submitted report in 1926. New Howrah Bridge Act was passed. In 1930 Goode committee was formed.  M/s Rendel Palmer & Trittion recommended for suspension bridge following which global tenders were floated. A German company quoted the lowest price. However that tender was not awarded due to ongoing tension between Britain and Germany.
Braithwaite, Burn and Jessop Construction Company was awarded the contract. Construction stopped once again due to World War 2,  mainly because all raw materials required for the bridge was diverted to war. Fabrication and erection contract was later awarded to Braithwaite, Burn and Jessop Construction Company. The project costed 25 million pounds. Due to World War 2, the bridge did not had a formal opening. It was finally commissioned in the year 1943. It is third largest cantilever Bridge in the world. Bridge deck hangs from panel point in lower cord of truss with 39 pairs of hangers.
It is maintained by Kolkata Port Trust. Initially, it had a problem of corrosion due to bird dropping. It was cleaned with annual cost of 5 lacs. After which, it was painted with primer zinc chromate and later painted with aluminium paint. Apart from this, hangers need to be protected from corrosion as well. Kolkata Port Trust covered the base of steel pillars with fiberglass casings to prevent corrosion.
On 24th June 2005, a cargo vessel named MV Mani had his funnel stuck underneath the bridge. It was trying to pass below the bridge during high tide. It caused substantial damage to the bridge. Immediately Kolkata Port Trust swung into action. Original Consultants M/s Rendel Palmer & Trittion from UK were called upon. Steel Authority of India supplied matching steel. Finally repair work was completed by 2006.
Many Indian films featured Howrah Bridge. Howrah Bridge is not a bridge, it is an emotion for local people.
admin
April 10, 2020
Uncategorized
no responses